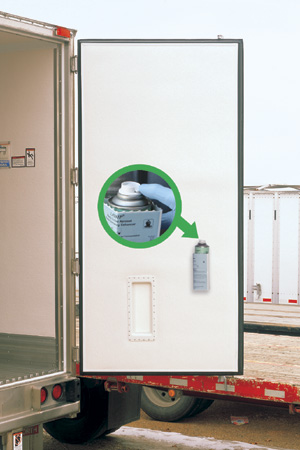 1,4SHIP® Quality Protection for the Road
1,4SHIP® is a ready-to-use aerosol dormancy enhancer that treats fresh potatoes after packing. It is dispensed right into the shipping vehicle to delay peeps and sprouts, protecting the potato quality right to your customer's shelf.
– Delays peeps and controls sprouts, whether potatoes have been previously treated or not.
– Maintains firmness and crispness of potatoes during shipping, reducing load rejections or downgrades.
– Restores dormancy and helps potatoes retain moisture.
– Extends shelf life for higher customer satisfaction.
1,4SHIP® effectively restores natural dormancy of potatoes, which slows the conversion of starches into sugars and helps maintain moisture levels. This dormant state keeps the potatoes from losing weight and also prevents potatoes from peeping.
1,4SHIP® is remarkably effective and easy to use. Application can be made any time after potatoes are removed from storage, washed, packed, and placed into a shipping vehicle. It can be used alone or as a follow-up to packing shed pre-ship treatments.
– The active ingredient, 1,4-dimethylnaphthalene, is commonly known as DMN. It is identical to a naturally occurring plant substance found in potatoes and other vegetables.
– 1,4SHIP® poses no residue issues and the EPA has exempted it from tolerance requirements.
– 1,4SHIP® is packed 12 cans per case.
– Use 1-2 cans per truckload (40,000 lbs.) of potatoes. In rail cars use up to 6 cans per 120,000 lbs. of potatoes.
Simply attach the 1,4SHIP® box to the vehicle wall or door using the adhesive strip. Once the doors are ready to close, push the trigger to begin fogging the vehicle. The fog delivery system permeates cartons, paper and poly bags over a period of 24 to 48 hours. (See carton for complete instructions).